Description
Details
Specifications:
Working frequency range

10 - 3500 MHz

Filter frequency range

> 2400 MHz (Wi-Fi)

832-862 MHz, 2620-2690 MHz (4G)

2110-2170 MHz (3G)

925-960 MHz, 1805-1880 MHz (GSM)

463-467.5 MHz (CDMA)

Filter suppression

not less than 15 dB

Sensitivity

not less than 50 mV / m

Maximum detection distance of the radio sensor is 5 mW

5 m

Maximum mobile phone detection distance

50 m

Dynamic range width

not less than 70 dB

Power consumption

no more than 0.6 W

Main modes of operation

search and security modes of analog and digital signals

Additional sound operating modes

sound off, sound indication of signal strength, acoustical link

Nutrition

2 batteries or AAA batteries

Battery Charging

from a network of 220 V through the power adapter

Battery life

from batteries - up to 400 hours

from batteries - up to 500 hours

dimensions

105 x 58 x 18.5 mm

Weight

110 g

Operating temperature range

from -10 to +40 ° С


Advantages of the bug detector:
1) Multi-touch detection in seconds
"BugHunter Professional BH-03 Expert" has a very thoughtful ergonomics and design, so that a few touches are enough - and he is already in action. Of the devices available in Russia, this model surpasses the analogues in workability and speed of operation. The device detects bugs in seconds!
2) Does not require switching when searching for digital and analog devices
Used in the "BugHunter Professional BH-03 Expert" productive processor allows it to perform high-speed search for bugs of both analog and digital type, and without manual mode switching, which makes working with the device more convenient. The merit of a powerful processor is not only in the high speed of the detector, but also in the ability to detect the latest types of digital bugs, including those operating in short-pulse modes that most detectors simply do not see.
3) Unique! Interference filtering
Detector bugs have built-in filters, when enabled, the signals of the most popular mobile communication standards (GSM, 3G, 4G, CDMA and Wi-Fi) are weakened, which makes it possible to search for bugs without interference from these ranges. The inclusion of filters will be especially relevant in the environment of a large number of communication tools that can create difficulties with finding bugs that can be encountered in an urban environment.
4) Unique! The most informative OLED screen 3-in-1
The model is equipped with a color OLED display, which shows the nature of the received signal (analog / digital) with the ability to determine the frequency or identify the protocol - GSM, GPRS, EDGE, 3G \ 4G. You constantly monitor the situation and instantly react to its change!
5) The widest range of operating frequencies with a guaranteed absence of "dips" in all its spectrum
The operating frequency range of the BugHunter Professional BH-03 Expert bug detector is in the range from 10 to 3500 MHz . Most of the known espionage devices work in this range. Expanding the range is even more meaningless, since its increase will undoubtedly entail the appearance of "dips" (a decrease in the sensitivity of the device at some frequencies).
Some manufacturers (mostly Chinese) claim their device range up to 5000 MHz and even up to 7000 MHz. But these figures are indicated only to attract the attention of potential buyers, because the uniform distribution of sensitivity in such a wide range is simply impossible! The developers took this into account, so the "BugHunter Professional BH-03 Expert" guarantees 100% protection due to the uniform distribution of sensitivity . Any espionage device operating in this frequency range will MUST BE DETECTED.
6) RECORD dynamic range width
"BugHunter Professional BH-03 Expert", having a dynamic range of 70 dB , is one of the champions in this indicator. The closest "pursuer" can only boast of 48 dB. For example, BugHunter Professional BH-02, recognized as one of the most effective means for fighting bugs on the Russian market, has such a wide dynamic range.
Note! Decibel refers to logarithmic units, and, therefore, the difference of 20 dB is in practice the difference of 2 orders of magnitude, or 100 times . Thus, the dynamic range of the "BugHunter Professional BH-03 Expert" is 100 times higher than that of the "BugHunter Professional BH-02" detector, previously considered the undisputed leader in this indicator.Naturally, to compare the "BugHunter Professional BH-03 Expert" with devices of Chinese "origin" does not even make sense.Such a wide dynamic range allows the detector to register very high / low power signals without going beyond its display scale. Other devices may be missing, for example, the display of a weak signal, or the scale will not allow to display a very powerful signal.
Another significant advantage of a wide dynamic range is the ease of spyware scanning. For example, if the radio tab is located a meter away from the "BugHunter Professional BH-03 Expert" and you move the detector 5 cm closer to the bug, it will record the signal power gain, i.e. You will know which way to go to find a spy device. Other devices, with a small dynamic range, just do not feel anything with such a slight change in the distance to the bug.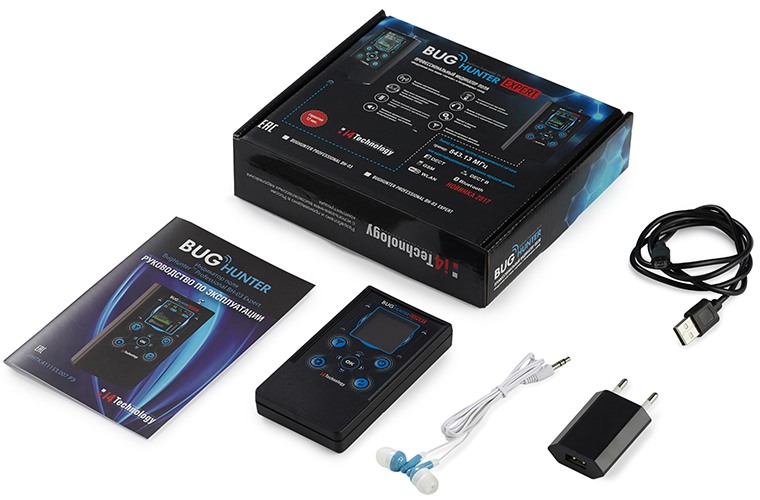 Reviews
Tags